Now that sounds like a pretty simple question, on the surface anyway.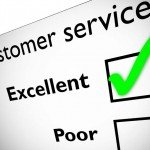 We all know what good service is, don't we? We certainly are able to recognize it when we encounter it. It's a feeling. Good service (to me) is doing the job you are paid to do; excellent service is anything above and beyond that. Your definitions may differ.
In fact, when you stop to really think about it. recognizing and defining good service is a lot harder than it seems. Is it going the extra mile? Is it speed and efficiency? Is is a nice smile and good eye contact? Is it all of these things?
{ 0 comments }