Friends sit around a table in the flickering candlelight as laughter and conversation fill the air. Occasionally, someone nibbles on the remains of a decadent dinner – a selection of flavorful cheeses, BBQ smoked almonds and honey roasted cashews, tender smoked turkey breast, and mouthwatering premium chocolates. Stories abound, from the office to childhood memories, as a medley of people come together to celebrate, share and give this holiday season.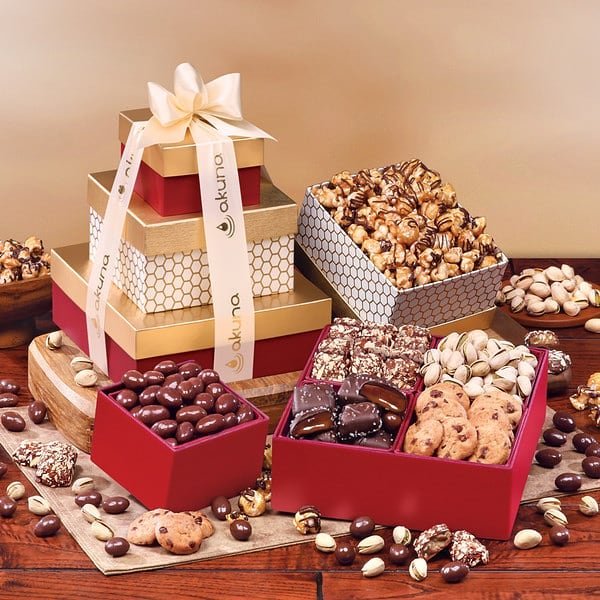 This scene will be repeated around the country and the world, as we celebrate the holidays during this magical time of year. Whether you come together with family, friends, colleagues or acquaintances, chances are you'll gather around a table with other people to remember what we're thankful for, have a good time and recharge.
People crave experiences today, from once-in-a-lifetime adventures to monthly poker or trivia nights. We value spending time doing what we like with people that we love.
Help your clients, employees, and VIPs connect with others this holiday season by giving them an experience to remember. Gourmet food gifts are more than delicious treats; they bring people together around tables, campfires, Christmas trees, and offices to celebrate, connect and reminisce.
A cheese and sausage gift fuels the party as recipients entertain during the holidays. Chocolate covered almonds make a delicious, convenient snack on an impromptu road trip to see old friends. A sweet sampler tower brings the movie theatre experience to a weekend movie marathon at home, and a hand-crafted, one-of-a-kind vehicle (with delicious cargo)becomes an instant conversation piece at the office or at home.   
In our fast-paced, always-connected world, it's more important than ever to connect with others offline. We spend most of our waking hours staring at screens, so it's refreshing to talk to other people face-to-face.
This is the perfect time of year to unplug and reconnect. Community events and holiday happenings abound, and you can join in the fun too. Fete loyal clients with a black-tie event, or thank employees with a holiday meal or party.
Enjoy delicious food while discussing your holiday plans or catching up with colleagues and clients. Get to know the people you work with better – internally and externally – to develop stronger relationships. You can learn valuable information about clients, at ease with food and drink in hand, that helps you serve them better. How do they spend their leisure time? What type of personality do they have?
Visiting with your colleagues or employees at a cookout or off-site team-building trip can help you discover shared experiences and interests you have in common. Have you taken similar career paths? Do you share family traditions? It's amazing how you can find efficiencies working together or communicate easier with people you know better.
Don't just give a gift this holiday season. Give an experience that your clients and employees will remember for years to come. 
Reprinted from Maple Ridge Farms with permission