These days it seems we all communicate regularly by email. With this form of communication quickly becoming the standard, widely available on easily carried devices, it's no wonder anyone not using it feels left out. As a business owner, you need to give some thought to how email contact could help promote your business.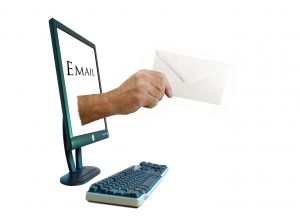 Email has two distinct advantages over other forms of promotion you might use. One, It's affordable as compared to other types of advertising. Two, it's immediate. You're actively communicating with your prospects and customers, instead of waiting for them to come to you. The content you supply should tie back to your business somehow, and be of a unique and compelling value to the recipient.
Let's be clear, we're not talking 
spam
 here. Spam is universally reviled, and rightly so. The 
CAN-SPAM Act of 2003
 provides these limitations for unsolicited commercial emails:
They must include opt-out instructions.
They must not have deceptive subject lines or false headers.
They must be labeled if they contain adult content.
They must include a legitimate address of the mailer.
This doesn't make spam illegal, and some U.S. states have state spam laws, such as requiring ads to have "ADV" in the subject line, as well as the sender's name, address and email address in the body. Beyond spam laws, your Internet Service Provider likely has stronger rules against spam. Your emails, so as not be considered spam, must adhere to both sets of rules.
So… you'll need to pay special attention on how you collect your email addresses or where you get them from. You'll want double opt-in lists, not only because these prospects have declared a clear interest, but also because mailing these types of lists are less likely to be considered spam.
You'll also need to give some serious thought to the content you'll be sending. Is it a newsletter that provides information… an announcement of a new service… a promotion or invitation… maybe just a quick personal note to check in or thank someone for a referral. Whatever content you use, it'll need to be fresh and interesting with each contact. You might consider planning emails for several months at a time.
Here are some basics of marketing by email that you'll want to keep in mind.
Write accurate subject lines.
Use a valid email address for the "reply to" address.
Provide the content the subscriber expects, with as little hard sell as you can manage. Stick to things that matter to your audience, not that matter to you. Value is the key.
Check your spelling and personalization. Nothing looks more unprofessional (or alienates a prospect faster) that an email that clearly isn't personal, is filled with typos, mis-ued words or other common mistakes. Proofread. And proofread again.
Vary your email content so the messages are always fresh, though you will keep the overall look, tone and graphics similar.
Limit contact to once a week at most, monthly or quarterly is even better. Aim for consistency of schedule that seems right for your business and industry.
Make it clear how to unsubscribe and provide a working link.
Include your company name and (in some states) regular mail address in every email
Done right, email marketing can be a huge boost to your business. It can help you generate sales leads, keep your company "top of mind" with both prospects and customers, build brand or company awareness, and provide an immediate, timely reminder of just what you do and just how good you are.