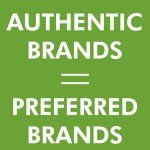 Once upon a time, a brand could rely on billboards and signs, radio and TV ads, public relations efforts to promote itself and attract buyers. Potential buyers had to go to a physical storefront to learn more or buy what they wanted. By mail came catalogs, flyers and the like. Brand authenticity wasn't a part of the mix simply because the company controlled the message.
In today's digital world consumers have access to anything, 24/7, delivered right to our front door or handheld device. We have all kinds of access to (and impact on) brands that consumers past didn't have. The hyper transparency of today makes it tougher to stand out over the noise of everyone else trying to do the same. We can talk about our favorites, complain about the bad stuff, share hints and experiences. It's a whole different ball game.
A company can't just hire an athlete and say it's product is healthy. They can't plant a few trees and claim being green. Or write a check to be considered charitable. Today, a brand has to be more like a person than ever… judged by the same standards. Fakes are spotted and dismissed. Real expertise is valued and sought out.
Brand authenticity is a key component of today's marketing.
The great thing about opening up your product or service to new way of thinking is that lets you really show your expertise. Or your quality. Or your amazing people. This is what draws customers because you are the expert. And it makes super fans out of them. Now they tell your story.
Consumers aren't satisfied with a simple product or service. They want an experience.
If you dismiss brand authenticity as simply the latest buzzword, there's this tidbit to chew on. There's an ongoing goodpurpose® research project explores buyers attitudes and commitment to causes and the expectations of brands and companies. Research from 2012 finds that when price and quality were equal, 53% of consumers made buying decisions based on brand Social Purpose (a core strategy for profit/growth that links your reason for being to impacting society in a good way.)
If that's not enough, there's this. The 2014 Authentic Brands report has some great information on brands and authenticity. Just over 76@ of consumers surveyed wanted brands to stand for more than just making money.
Brand authenticity is simply being good, for goodness' own sake. A win-win.