Can you feel that certain something in the air?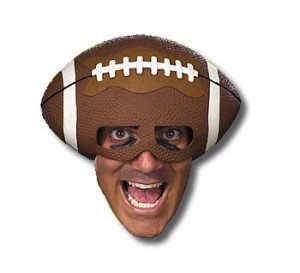 Despite a year of scandals and shameful behavior, the NFL is as much a commercial success as ever. With winter having us firmly in hand, and massive TVs on sale everywhere there's no doubt another Super Bowl is coming up. For the next few weeks just about everyone will be thinking, talking, eating and sleeping football, and this gives you ample opportunities to use football themed promotional products to build your business… to get noticed and remembered.
There are plenty of options…
You might give any of these items to customers/employees, or make them a "Gift with Purchase" given out in the buildup to Super Bowl Sunday. Either way, you'll share a love for football and an important message about your business at the same time.
The effectiveness of promotional products during these frenzied weeks of football fanaticism (or at any time) is hard to beat. The 2014 Global Advertising Specialties Impressions Study finds consumers hang onto the promotional products they get, on average just over 7 moths though calendars stay around for a full year. They are often passed on, especially in the U.S. and Canada, extending your reach.
There are lots of other great ways to show your team spirit… get in on all the football mania going on around you. Start by thinking about the type of business you run and the numbers of football fans you have as customers (or employees). This will help you choose the right approach… one of these or something you come up with on your own to get in on the fun and build business too. Consider…
offering a discount on a product or service, or more at the regular price, and have the offer expire after the game
creating a coupon that has a football theme in both design (colors, graphics) and copy
running (or participating in) a fantasy football league to get customers/employees involved and interacting
decorating your location with banners, your team's colors or anything football related
getting together to watch the big game at your location or a local pub, restaurant
We've talked before about how important it is to do some thinking and planning before you decide to call and order that first promotional product — from us or from someone else. We stand by that advice. To use these items effectively, you need to understand your audience — who'll be getting the item. You also must have a plan, a budget and some way to measure the success of your efforts. And lastly, you'll need to find the right product, football themed or something else, to fit your needs.
Calling on a fully trained product specialist is a smart move, as these pros can help you choose something that works with your overall marketing message, or takes advantage of a special, once-a-year event like the Super Bowl. Our team works regularly with businesses of all sizes to help them get the right product, the right look.
So enjoy this special time of year… in any way and every way possible. Go team!