Some people say you make your own luck. Some people think there are those who are just born lucky, or in the right place at the right time. When it comes to luck in business, Bill Gates is an example of a business success who was smart, educated, hardworking and lucky early on. Luck was one of many things he had going for him.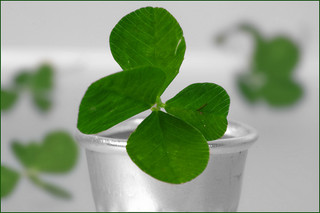 Of course you cannot rely solely on luck in business, you also need plenty of heart, smarts, determination and guts to make it. The good news is that you can adopt the lucky habits of successful business people and put them to work in your own life, your own business.
In researching this post I came across the most amazing story of luck playing out in the career of Michael Mauboussin (25 years in business investing, author of the new book The Success Equation, adjunct professor at Columbia Business School) — his first job was won by a conversation about a football logoed trash can — a lucky break to be sure. The combination of logo-bedecked item and luck was impossible for me to resist. How lucky is that?
It may interest you to know that the luckiest people in the business world tend to have all three of these qualities…
1. They are humble, daring to admit that they don't know everything. These folks are aware of their own limitations and the need for others to help. Being open helps lay the foundation for another lucky attitude… curiosity.
2. They are intellectually curious, and learn all there is to know about anything. Read, listen to others and explore new ideas. They ask questions more than answer them. This makes them lucky enough to meet more people, get more answers, go to more places.
3. They are optimistic, believing that newer, better, stronger is always possible. If you believe in possibility, more luck tends to come your way.
It's also helpful to realize that luck cuts both ways — for you and who you are dealing with at the time. A lot depends on how you play the cards you've been dealt… believe in yourself, work hard and learn, but be open to luck and you may start to see the luck factor behind many decisions.
It might be hard, even with the upcoming luck-themed holiday, to admit the role luck plays in our lives. Who we meet. What jobs we hold. If we make it through whole and unscarred. Interesting that Mauboussin believes that as the world gets more skilled, luck will play a bigger and bigger part in the outcome of events. 
May the luck of the Irish be with you on St. Patrick's Day!