I'm not typically a big fan of contests, or playing the lottery for that matter. But then, when the jackpot gets up in the $100 million range… I'm standing in line, just like everyone else. When it comes to promoting your small business, especially if you're a NASCAR fan or an auto related business, there's a contest that might well be worth your while.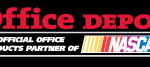 Office Depot, billing itself as the official office products partner of NASCAR, is promoting a contest that offers small businesses the chance (however remote) to become the "Official Small Business of NASCAR". The winner has their business name and logo featured on the No. 99 Office Depot Ford driven by Carl Edwards during the Sprint Cup Series in September of this year.
Imagine that… Millions would see your name… your logo. 
That's the kind of exposure that's like those  $100 million jackpots — few and far between.  Even if you don't win that coveted spot on the side of the car, you may still end up with one of the other prizes… pretty remarkable in themselves. 
A $10,000 Small Business makeover (this is the one I want!)
VIP race weekend at the Sept. 26-28, 2008 Sprint Cup Series held at Kansas Speedway. If you're not a fan, or can't make the trip, think amazing giveaway or raffle item.
A company logo, web site design by Logoworks, plus business stationary courtesy of Office Depot Design, Print & Ship Depot. A very snazzy prize… especially if you don't have a logo yet, or you need some upscale stationery.
Two year membership to Lifelock Identify Theft protection service for 10 employees — if this doesn't nominate you for "Boss of the Year", nothing will.
A private coaching session with NASCAR execs, including an insider's look at the business side of NASCAR — imagine what you could learn.
Entering is easy. All you do is visit www.officedepotracing.com anytime through June 22, 2008 to enter your business. Once entered, you'll have a dedicated web page, with password, that you can use to keep track of the nominations you've received.  
You don't have to buy anything to enter the contest. But you will be asked to join Office Depot's Worklife Rewards Program a loyalty program that gives customers 10% back on ink, toner and paper, and 1% back on other purchases.
You'll be able to spam… er, I mean spread the word to employees, contacts, friends and family by sending out a customizable email audio message the voice of Edwards himself. This encourages the recipeints to nominate your business… the more nominations, the more chances you'll have to be the entry selected at random from all the entries.
And, as I tell myself, standing in that lottery line…not entering guarantees you won't be a winner.
 
Read the full news release here.