Last year, at just about this time, I wrote (vented) here about the disappearance of my promotional calendar from a real estate agent we used for a summer rental. So when the familiar envelope arrived yesterday I was happily surprised to find the functional, practical and everyday useful calendar back in the mix.
These guys must have realized just how effective printed promotional calendars are. Even today.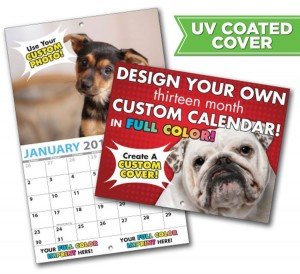 There's something to the printed calendar that the virtual ones just don't have. Permanence. You can touch it, use it anytime. What often gets overlooked in our tech-obsessed world is that not everyone is comfortable using technology, relying on apps. Unlike the digital variety, printed calendars are there, every single one of the 365 days of the year, as useful as ever. As perfect a place for your business name, contact info or message as you can get. Rather than being intrusive and annoying like virtual ads, your message on a printed calendar is quietly there, a subtle reinforcement and reminder of your business. Your understanding of real world needs.
You can't beat that.
PPAI research from 2011 finds that 80% of homes and businesses are still using a printed calendar. Despite the explosion in technology and dizzying number of apps, this number is down just 20% from levels reported in the initial study conducted in 1981. If you think about it, you can see why…
Everyone can see a printed calendar, not just a single user of a device
There's one central location for appointment cards, invitations, upcoming events, birthdays, phone numbers and addresses
Everyone gets an overall view of what's scheduled for the month
Visuals and style express personality, interests
No power or charger needed, no worries about viruses or crashes
It just makes sense for business owners to rely on the printed promotional calendar as an affordable, effective way to build awareness, thank customers.
If you're overwhelmed by the options, our team of specially trained promotional products representative is always ready to help you find the right style and size. We'll help you create an imprint if you need one, and help you make choices using what we know about color (red for attention, blue for benefits, green for earth-friendly) so that you end up with an printed 2015 calendar you'll be proud to give.
No matter what type of calendar you choose, there's no denying that even in the digital age, putting your business name, logo and phone number on a quality, colorful 2015 calendar is a smart way to build your business — all year long.