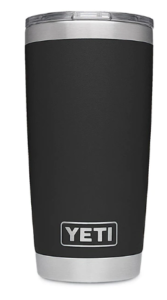 2018 was a great year for us! Here are some product highlights:
You could have called 2018 "The Year of the Yeti". Double-insulated stainless steel tumblers were all the rage all year long. And there is no end in sight. They have evolved from the standard 20 oz. commuter size to configurations for can holders, beverage bottles, and even stainless wine tumblers. Recipients continue to show the love for their stainless drinkware, and use it every day, all day long. And the best part? Many of them will keep your ice solid for an entire 24 hours! Even the freshest coffee can stay piping hot for six hours. We have over a dozen brands and lots of sizes, colors, and decoration methods to choose from — so we can easily work with any budget.
Cell phone accessories have been a hit for years, but repositionable PopSockets® Grips really came into their own in 2018. Popular retail products always seem to do very well in the printed swag space. The original PopSockets are made of plastic and are still very popular, but they have continued to branch out into a variety of options. They are also now available in Rosewood or Bamboo. Plus, our Aluminum PopSockets are available in bold new colors including Ruby, Sapphire and Gold, as well as popular phone colors like Rose Gold or Space Gray. All flavors of PopSockets are available with an optional Dash Mount, giving you the opportunity to utilize your phone in the car while still keeping it hands-free. The wood and metal PopSockets give you even more stylish options, lending perfectly to a laser engraving.
Every year, there is one product that is so hot, it's dead on arrival. Fidget Spinners are one such dud. The fad started in 2017 as a fun distraction, a great way to get rid of some of that extra energy. Everyone from school-aged kids to grown adults were falling into the craze. The demand was super duper high in 2017 so we knew that we needed to be ready for the wave in 2018. But by the time the supply channel filled up this year and we could supply them quickly, the demand for branded spinners was gone. So let's just say we're glad this fad came and went so fast. So long, fidget spinners!