Sometimes you just need to push the envelope for something in which you believe.
Patagonia – a California-based clothing company – has done exactly this with their Men's Road to Regenerative™ Stand Up® Shorts. The website states "Our Original Stand Up Shorts made with 9.5-oz Regenerative Organic Certification Pilot Cotton from farms working toward our highest standard, which aims to rehabilitate soil, respect animal welfare and improve the lives of farmers. Limited edition. Fair Trade Certified™ sewn."
What they don't say is that these shorts may not be suitable for children.
Sewn inside the tag of these shorts are the words, "Vote the assholes out." Yup, you read that right. While it seems to be more of an environmental statement than a political one, it has certainly made a huge splash as people are both for and against the messaging. However, Yvon Chouinard, the founder of Patagonia, has been saying this for years.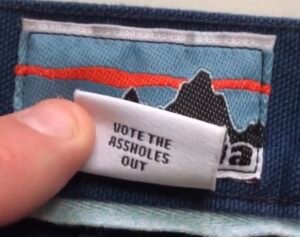 Chouinard has also founded a organization called 1% for the Planet, where companies contribute at least 1% of their annual sales to environmental causes. "Remember, vote the assholes out—all of those politicians who don't believe we should do anything about climate change," Chouinard said in a letter to the organization. "Vote for the planet and against those who would do nothing. We have the power and now is the time to use it."
Companies across the global do this type of thing every day. They push back hard in order to make their voices heard. In fact, promotional product distributors often have to choose whether they want to support such messaging. When a company comes to a distributor with a controversial slogan or phrase, the distributor has to determine whether or not they want to be associated with it. Sometimes, that answer is no.
As for the shorts from Patagonia, these aren't actually made for children – so the messaging (in this writer's opinion) isn't a problem, thanks to the intended audience. Sending a discreet but strong message through their clothing is just as powerful as a press release. Businesses have a right and commitment to standing up for their values, missions, and beliefs.